Guardiagrele, the stone home town of the Italian great writer D'Annunzio,situated on an isolated height of a ridge of Maielletta, like a terrace on the hills that go down towards the sea.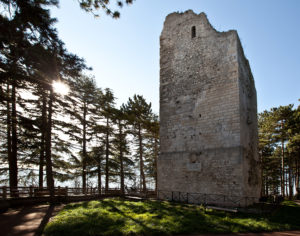 Tradition wants that the village derives from the a longobard tower, at present called Torrione Orsini, that was and still is situated in the highest and flattest part of the hill in order to defend the population of the village below from the frequent barbaric invasions.
With the decay of the Roman Empire, having increased the incursions, the population moved under the tower, building stone houses one on the other. A defensive town was created.
The village of Guardiagrele keeps many monuments and interesting sights.
Among the religious buildings the important and fascinating «  Collegiata of Santa Maria Maggiore » stands out ;it is an outstanding church born on a pagan temple of 430 a.d.,decorated with preciuos frescos and alto-relievos, with the museum of the cathedral, containing pieces of exceptional artistic value, such as a processional cross of the master Nicola da Guardiagrele, dated 1431.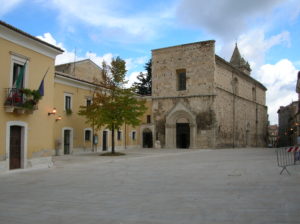 Among the other religious buildings, the Church of Saint Francis,dated 1276, deserves to be mentioned : it keeps the relics of Saint Nicola Greco, a calabrian monk escaped from the Saracen incursions of the X century.
Besides,the church of Saint Nicola of Bari is likely the most ancient one in Guardiagrele ;it was built on a previouspagan temple devoted to the god Jupiter ; there is also the church of Saint Silvestro, in romanic style,now deconsecrated centre of meetings and concerts : the Convent of Capuchins dates 1599, the church of Saint Rocco of XVIII century,the church of Saint Chiara dated 1220, the Church of Saint Donato, patron ofthe town, situated outside the urban walls ; the church of Santa Maria del Carmine.
Really outstanding is the very old necropolis of Comino, situated in the municipality of the same name.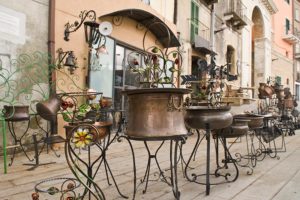 Handicraft of metals has made Guardiagrele famous above all for the work of wrought iron and of copper, besides the ancient art of jewellery.
In the historic centre it is possible to admire precious worksof iron masters, still active in famous worshops.
The work of copper welcomes visitors because of the exhibitions at Porta San Giovanni.
Not by chance in the village there is « Mostra dell'artigianato Artistico Abruzzese » (=Exhibition of artistic handicraft of Abruzzo) : every year from 1st to 20th august, the best works of the rich and famous artistic handicraft are shown at the exhibition ;it is organized in the ancient convent of the Franciscan nuns.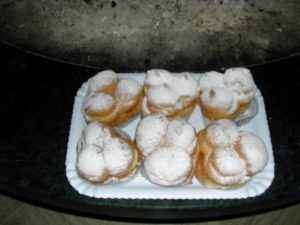 The exhibition of pottery,wood, copper,stone, textiles,jewellery and lace, has been awarded as a national show.
Local gastronomy is also appreciated due to its so many products.
« Sise delle monache » (= nuns'breasts) deserve to be mentioned. Lullo and Palmerio confectioners in Via Roma make them : they are sponge cake stuffed with delicious custard whitened with a veil of sugar.